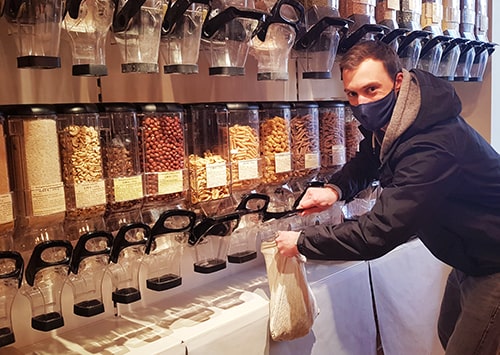 Going to the supermarket is the first thing that comes to our minds when we need to get some food for the night. It's at the corner of the street and there is everything we need.
Do you remember last time you went to the supermarket ?
From 1 to 10, how would you rate your experience ?
Well, for me, it's a 3.
Most of the time it's overcrowded, I feel a stressing atmosphere and I get bombarded with promotions which makes me buy more than I need.
When I started my sustainable journey, I realized that there was another issue in my supermarket. There are so many choices in the shelves, that is was hard for me to differentiate which food really impacts the environment or not.
Even if it's possible to do low-waste groceries in a supermarket, it's like asking a kid to go to the candy shop and buy only dried apple crisps.
« Bulk store » or « zero waste store » is a new eco-friendly revolution. They commit to offer the most sustainable food with the less packaging possible. Surprisingly, these stores bring even more than reducing our environmental impact.
Here are the ultimate benefits you'll get when you start doing your groceries in a bulk store.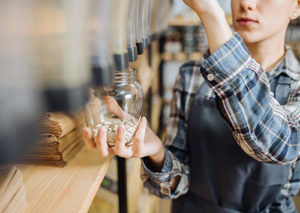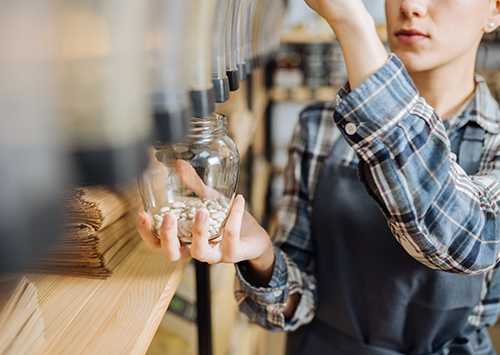 Buying food in bulk clears away a lot of fancy packaging and single-use plastic. Veggies and fruits are displayed on a stall and dry food is served in vertical dispensers. Take your own fabric bag or glass jars and you're good to go.
As you fill-up the food yourself, you can choose the exact quantity you need. Wanna try something new? Take a small portion. Have dinner with your family? Take a big portion. Taking an adequate quantity prevents food to rot on your shelf.
Here's something mind-boggling. Buying food without packaging also generates waste. It's the waste resulting from the production and it's called the upstream waste. Bulk stores select suppliers who aim to reduce that waste.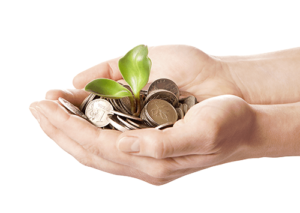 Buying in a bulk shop can save you money. You won't pay for the excess packaging and the brand logo. Also, they choose local producers which reduce transportation cost. And remember, you can also buy the exact quantity. So, you won't pay extra for food that will stay in your pantry.
Owners of bulk store are usually good citizens who pay their taxes to your country. Sometimes, they also offer products that are locally-produced. Your money goes to the hand of local business instead of international corporations!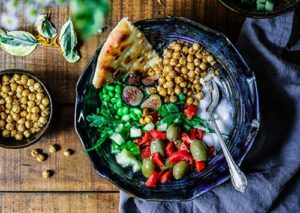 You will find a large choice of whole food in bulk stores. That food is not processed and it's free of additives. For example, pasta, red beans, lentils or buckwheat. A lot of health benefits come from eating whole food. It regulates blood sugar, improves digestion and provides more energy! If you're lucky you will also find organic food.

Craving for some sweets? You won't be tempted by high-calorie snacks. There are delicious alternatives that you can eat all day like nuts, dry fruits or home-made cookies.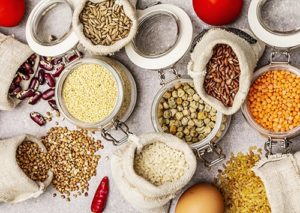 When supermarkets tend to select the most popular food, bulk stores offer overlooked varieties like Quinoa, Mung beans, Soybeans or Chia seeds, it's as many opportunities to discover new tastes in your mouth. And no need to be a Chef! There are a lot of quick and easy recipes for whole food. It's all about mixing the good ingredients and the good spices.
6. It's fun and interactive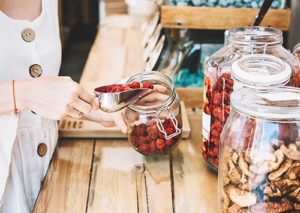 Going to bulk stores for the first time can be intimidating. Fortunately, naturopaths, nutritionists or eco-friendly employees are here to help you! You can always have a chat with them and they will share their own experience. Relax! Scooping up your portion of pasta is a lot of fun!
First time in a bulk store? Check out "7 Steps How to Shop in a Bulk store"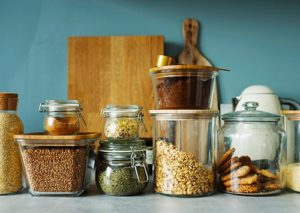 When you come back with your bags full of fresh food, you need to store them somewhere. The best option is the Mason jar but you can also reuse old glass jars. Your kitchen will transform into an eco-blogger studio! And, do you like to take out the garbage bin? No one does. Coming back home with less packaging means throwing away fewer garbage bins.