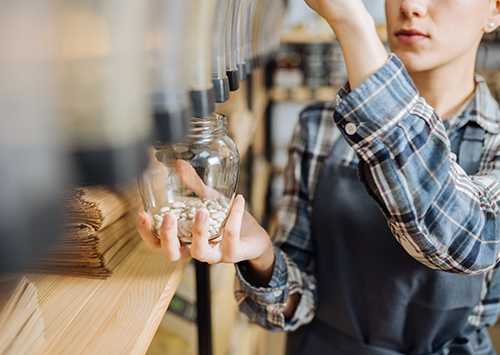 So you've heard of the benefits of bulk shopping and you'd like to try it out, but how does it work? 
The main difference between shopping at a regular grocery store and going to a bulk food store is preparing beforehand.
While it's definitely possible to stop at a bulk store on a whim, I personally find it better to come prepared with my containers. Bulk shopping is more of a "restock the cupboards and plan ahead" type of shopping trip. In order to not have to get more bags or jars from the store, it's better to think and plan ahead. Once you make it a habit, it's quite easy!
If you don't have a bulk shop nearby, don't panic! Check out "Can you Zero Waste in a Supermarket?" (coming soon)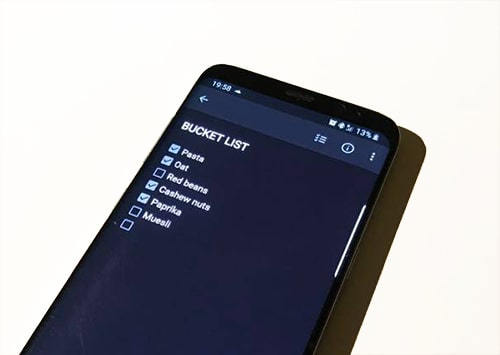 This part isn't all that different from a regular shopping trip! But it's always good to write down what you're looking for so you don't get distracted/overwhelmed. 
Personally, I use the app Simple Note. So, I just have to check or uncheck the items that I need every time I go to the shop.
If you've never been before, you might be wondering, "What can I buy in bulk?". Think dry food that is kept in your cupboard. For instance, flour, pasta, oats, dried fruit, nuts, spices.
2. Grab reusable containers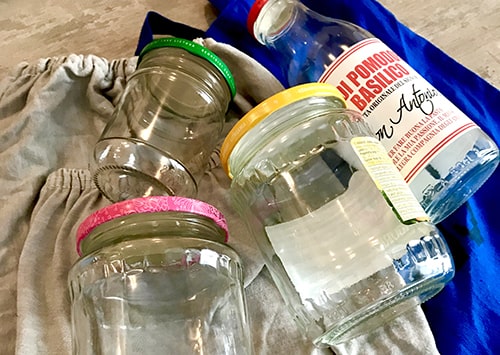 I personally have a large stash of glass jars that I put into my fabric bags, but you can use whatever you like to put your food in! Tupperware, snack box, mesh bag, and so on. If you're going for the first time and don't have a collection of containers to choose from, you can usually get these from the store you're going to.
3. Go to the bulk store and talk to someone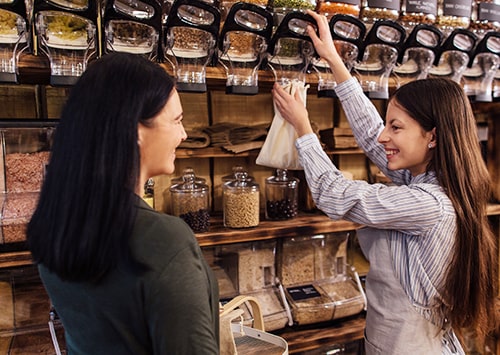 If you're an introvert like me, sometimes this is the scariest part. It often takes me a couple of trips to a store before I'll actually get brave enough to talk to someone and buy something. Remember, the people who work at zero waste stores are probably as excited as you are to introduce zero waste shopping to someone new, so feel free to tell them it's your first time and need some direction!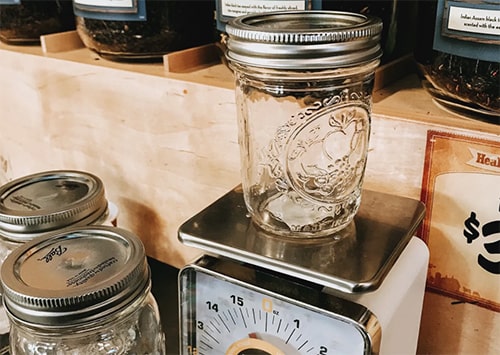 While the shop keeper is explaining how it works, they will most likely tell you that you first need to weigh the containers before you fill them with food. That's how you « Tare » a jar. This ensures that you only pay for the products you buy, not the heavy glass jar.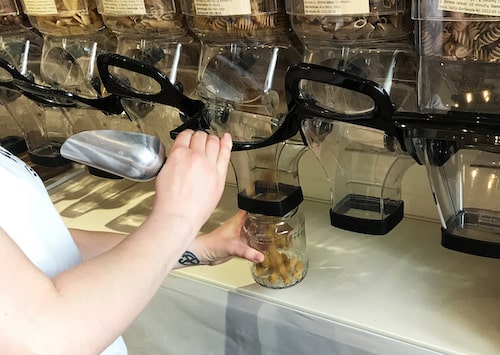 Now you can fill those containers with the items from your list. If it is a self-serve store, you'll also have to write the product number on the container so the cashier can find the price.
Finally, they will weigh your products, subtract the tare, and calculate the price. Pay for your goods and you're done!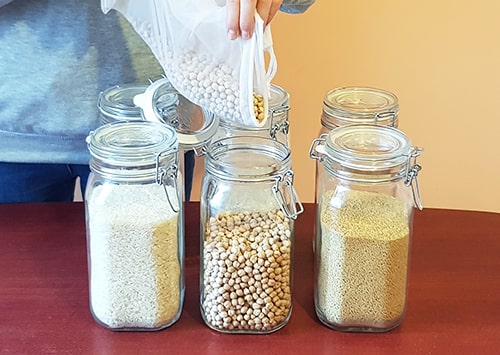 Once your home, you'll need to unpack your bulk food and store it into bigger containers. My favorites are glass jars which you can buy, or simply reuse. They're super handy, hermetic and, if you put in a little effort to remove the labels, you can easily see what's inside to create a clean look on the shelves.
Here are is some tips for the kitchen "5 changes in my Zero Waste kitchen" (coming soon)
Congratulations! You did it. You should feel proud of yourself. Shopping without packaging is new for most of us and it's just a new habit to get used to. Thanks to your action, you prevented a lot of packaging to reach the landfill or the ocean.
You want to share this experience? Take a picture and post it on social media to tell all your friends about your experience and encourage them to do the same.