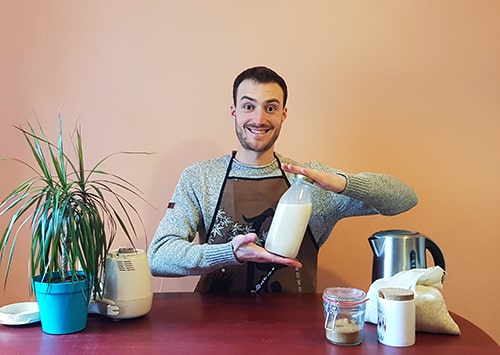 Oat milk is the easiest plant-based milk to make at home. It's super delicious and you can buy oat in any food store. Only basics utensils are necessary for the recipe and it will take you max. 7-minutes to make your own.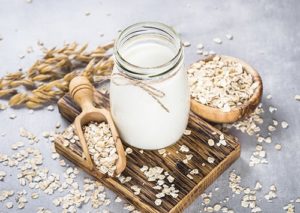 Oat milk is a delicious cow milk alternative! It's fresh, sweet and it has a more neutral taste than almond or soya milk. I love to add it to my cereals for breakfast!
Plant-based milk has become very popular these days and oat milk nutrition makes it an excellent choice. It's a good source of vitamins, minerals, and fibers. Do you have allergies or intolerances? It's naturally free of soy, nuts, lactose, and gluten if it's labeled gluten-free oatmeal.
Want to reduce your CO2 emissions? The cereal "oat" is a nutrient-rich food that grows easily in our temperate regions. Which makes it one of the most eco-friendly milk of all plant-based milk.
In addition, the recipe is very easy to make at home. Oat flakes are available without packaging in any bulk store. Hence, its price is really lower than any other milk bought in a carton.
Is it a good cow milk's substitute?
Oat milk is the perfect substitute for cow milk. You can drink it in a glass as a fresh beverage but it can also replace the cow milk in a lot of recipes: Cereals, sauce, milkshake, pastries and so on. Check out the vegan version of that recipe to see if anything specific has to be done.
⏱️ 7-minutes (washing included)

💪 Difficulty is Easy

💵 Price is around 0,42€/liter

🗓️ Conservation is up to 3 days in the fridge.

⭐ Customize it to your taste or your diet.
Ingredients for 1 liter of oat milk
Ingredients
1 liter of water
100gr of oatmeal
1 tbs of sugar (cane sugar, coconut sugar or agave syrup)
1 pinch of salt
Utensils
1 Blender
1 Sieve
1 Bottle of 1 liter
Pour the water into the blender and add the oatmeal.
Add the sugar and the salt.
Blend the mixture during 20-seconds.
Sieve the blended mixture into the bottle.
Keep the dry oatmeal leftovers. It's delicious in muesli.
Shake the bottle.
Enjoy your fresh home-made oat milk!